Northeast Nebraska All-Star Football Classic
Recognition Banquet
Friday, June 7, 2019 at 6:30 p.m.
At Norfolk Catholic Activities Center
Located at 2301 W. Madison Ave.
Each participating football player will receive his banquet ticket at no cost.
Additional pre-paid banquet tickets are available for $17.50 per person. Anyone can attend the banquet – parents, grandparents, siblings, friends, etc., but everyone other than the players will need to purchase a ticket.
Banquet tickets will not be sold at the DOOR!!!
Deadline to order pre-paid banquet tickets is Wednesday, May 29, 2019.
Banquet attendees will be placed on an RSVP list located at the registration table, so you can just check in – no actual ticket needed.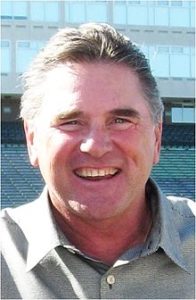 The speaker for the banquet this year will be Coach Joe Glenn. Joe Glenn grew up in Lincoln and attended the University of South Dakota, where he played quarterback and wide receiver for the Coyotes. At age 27 he became the head coach at Doane College in Crete and then had successful stints at Northern Colorado and the University of Wyoming. He has over 200 wins in his career and is a two-time AFCA National Coach of the Year honoree who has won three national championships at the Division II and FCS levels. One of his trademarks during his coaching career has been his ability to motivate and build relationships with his players. He often tells his team that he has only one rule for them to follow – "Be a Good Guy."
2019 Banquet Form
Make banquet checks out to:
Northeast Nebraska All-Star Football Classic
(Please remember postal mail is slower now – you can hand deliver if you prefer)
Return this form and check (or cash) to:
Northeast Nebraska All-Star Football Classic
609 W. Norfolk Ave.
Norfolk NE, 68701
DEADLINE is May 29, 2019
RSVP list (Please print – you may add lines)
____________________________________________________
____________________________________________________
____________________________________________________
____________________________________________________